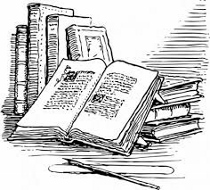 Hannah is available to visit or skype with bookclubs. To get in touch, please visit the contact page.

A Letter from Hannah Tinti to bookclubs:
Whenever I visit a book club to talk about my novel, The Good Thief, I bring a wishing stone. A wishing stone is a rock, usually found near water, with an unbroken white line circling it completely. It is good for one wish to come true. When I was a child I would collect them. Later, I was reintroduced to them at an important time in my life. At the beginning of The Good Thief, Ren, a young orphan living in New England, comes into possession of one. He makes a wish, and this wish reverberates throughout the rest of the book, as do the stones themselves.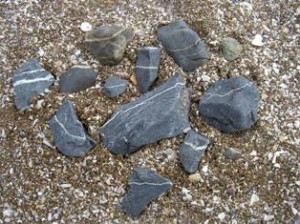 The Good Thief has brought many wonderful things into my life—writing, travel, and lots of new friends. To pay back some of this good luck, I give away a wishing stone from my collection to one of the book club members–usually to whoever asks the first question! (I've been gathering them for years, from all over the world–these to the right are from New Zealand.) What I like about this tradition is that it takes something from the fictional world I've created in The Good Thief and makes it tangible and real. The readers pass the wishing stone from person to person, and as each of them examines the thin white line, it's as if they have become Ren for a moment, and can understand all of his hopes and dreams.
In The Good Thief, Ren wishes for a family. This wish eventually comes true, but not how the boy expected. Instead of a loving mother and father Ren is picked up by a con man named Benjamin Nab, who takes Ren on an adventure across New England, thieving and scamming people out of their money. Eventually they arrive in the town of North Umbrage, and it is here where Ren begins to discover the truth about his heritage, and to cobble together a group of misfit characters, creating a family of his own. In the end, Ren takes all that he has learned along the way to tell a story, and that story saves his life.
While writing The Good Thief, I was inspired by classic tales that made me fall in love with literature when I was a little girl—books like Great Expectations, Treasure Island and Jane Eyre. I tried to capture a similar spirit of old-fashioned story-telling, where a hero with a true heart could win out in the end. Book clubs have told me this is one of the reasons they enjoyed The Good Thief—it reminded them of why they became readers, too. Just as I passed my wishing stones on to them, they have been passing The Good Thief on to their friends and families. A few have sent me letters, or even mailed me wishing stones in return. I have these stones lined up on my desk, and they remind me every day that the best part of writing a book is also the best part of reading one—sharing it with another person.