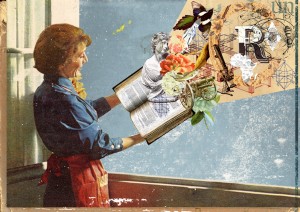 Summer is the perfect time to catch up on reading (as well as listening), to those books we've been meaning to get to but never seem to have the time for. I plan to crack open some Proust, and meander joyfully through a few more chapters, before turning to the giant pile of galleys on my desk. But before I head off-grid to get some of that important reading (& a bit of writing) done, I thought I would do a round-up of forthcoming Selected Shorts programs. Now's your chance to get caught up too, by downloading or tuning into the current show, which has four great stories about Mysteries & Wonders: "The Schartz Metterklume Method" by Saki, read by Marian Seldes; "Berkeley or Mariana of the Universe," by Liliana Heker, read by Hope Davis; "Cultural Relativity" by Charles Johnson, read by Regina King; and "New York Day Women," by Edwidge Danticat, read by Laurine Towler.
The following week, 6/28/12–The official theme is: Twice Upon a Time & includes: "Ardour" by Jonathan Keats performed by Lili Taylor; "Little Pot" by Ilya Kaminsky performed by Sonia Manzano; "Blue Bearded Lover" by Joyce Carol Oates performed by Betsy Lippitt; "Relic" by Robert Olen Butler performed by Ron Nakahara; and "The Porcelain Man" by Richard Kennedy, performed by Estelle Parsons.
7/5/12–The theme is: Who Am I? and will feature:"Neighbors" by Julia Alvarez performed by Joanna Gleason and "Flight Patterns" by Sherman Alexie performed by B.D. Wong.
7/12/12–A single shot story, "Safari", excerpted from Jennifer Egan's Pulitzer Prize-winning novel, A Visit from the Goon Squad, read by Hope Davis.
7/19/12–The stories are about Wild Western Women: "Liliana" by Maile Meloy performed by James Naughton, and "Going to the Dogs" by Richard Ford performed by our own Isaiah Sheffer.
After that, I should be back online again, and can resume my sporadic chronicling of this wonderful radio show I feel so grateful to be a part of. In the meantime, please visit the Selected Shorts website for info and upcoming live performances. We've got Alec Baldwin, David Mitchell, Tom Perrotta, Junot Diaz, Karen Russell, Loorie Moore, Sherman Alexie, Richard Ford and all kinds of cool things coming next season. Hope you'll join us, in person or by tuning your dial.