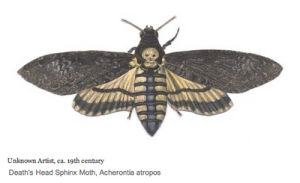 There's a wonderful line in Edgar Allan Poe's
"The Sphinx"
(performed this week on
Selected Shorts
by Kathleen Widdoes): "..the principle source of error in all human investigations lay in the liability of the understanding to under-rate or to over-value the importance of an object, through mere mis-admeasurement of its propinquity." The object in this case is the Death's Head Sphinx Moth, which our narrator, haunted by a Cholera epidemic, mistakes as a monstrous omen of death and ruin. Its propinquity (which can mean both a physical and/or spiritual nearness) makes our narrator almost lose his mind. The other stories featured on
Selected Shorts
this week also examine different results of the
"Propinquity Effect"
: Krista MacGruder's "Not Quite Home Alone," read by Jacqueline Kim; Miranda July's "The Shared Patio," read by Kirsten Vangsness; and Richard Ford's  "Privacy," read by Rene Auberjonois. You can listen in on your
local public radio station
, or
download the podcast
for free. And the next time someone or something keeps re-appearing in your life, ask yourself: is the universe trying to tell me something? Or: am I mistaking a moth for a monster?