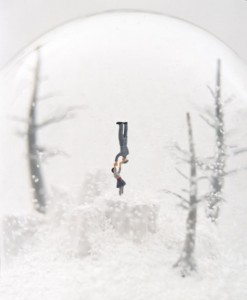 A friend of mine used to collect snow globes. He had a whole shelf dedicated to their display, and people would bring globes back from around the world to add to his collection. Las Vegas, Rio, Pompeii, Beijing. Another shelf was added, and then another, until an entire wall of his apartment was full of these small underwater scenes, shimmering with flecks of white. They would have been a perfect addition to Miranda July's new book,
It Chooses You,
featured on this week's edition of
Selected Shorts.
Part book, part art-project,
It Chooses You
began while July was struggling to write the screenplay for
The Future
. As a distraction, she sought out people selling items in her local
Pennysaver,
interviewing and photographing them and their objects. These interviews were performed last season at Symphony Space in New York City, with Miranda July playing herself, and the actors Tom Bloom, Mia Dillon, Rebecca Naomi Jones, Adrian Martinez, Olga Merediz and Tom Nelis playing the interesting strangers July met through the classifieds. The items for sale—Care Bears and old leather jackets and photograph albums—act as keys, unlocking each person's history. And like that wall of snow globes, every object represents an adventure, carried from another part of the world to its exact location, where it seems to gain its true meaning, like a priceless artifact in a
museum.
So tune in this week, and take a closer look at the tchotchkes gathering dust around you. They may be revealing more than you think. The
Selected Shorts
site is still out of service, but you can listen in at
WNYC
or your
local public radio station.