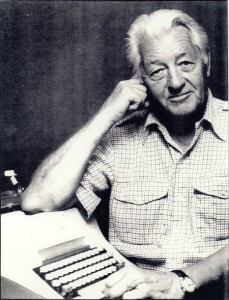 This week's episode of
Selected Shorts
features two stories by Wallace Stegner: "The Traveler," read by Jack Davidson, and "Goin' to Town," read by Jack Davidson, Isaiah Sheffer, and Lillo Way. Recently I listened to Stegner's
radio essay for "This I Believe."
What did he believe in? Moderation and conscience rather than fashion and faith. He also sympathized with witches and heretics. What I admire about Stegner is that he took these strong convictions and put them into action, particularly with his environmental work. Besides his
Pulitzer-prize winning books,
he's probably best known for
this letter,
which he wrote to the Outdoor Recreation Resources Review Commission in 1960. The letter had a big hand in passing
the 1964 Wilderness Act.
So while you're out there hiking and swimming and camping this week, tune your radios and listen in to
Selected Shorts,
so you can get to know this extraordinary writer and friend of the American West. Here's just a bit from Stegner's letter, describing a section of desert in Utah called Robbers' Roost. He's got a real talent for capturing the landscape, and how important it can be:
 It is a lovely and terrible wilderness, such as wilderness as Christ and the prophets went out into; harshly and beautifully colored, broken and worn until its bones are exposed, its great sky without a smudge of taint from Technocracy, and in hidden corners and pockets under its cliffs the sudden poetry of springs. Save a piece of country like that intact, and it does not matter in the slightest that only a few people every year will go into it. That is precisely its value. Roads would be a desecration, crowds would ruin it. But those who haven't the strength or youth to go into it and live can simply sit and look. They can look two hundred miles, clear into Colorado: and looking down over the cliffs and canyons of the San Rafael Swell and the Robbers' Roost they can also look as deeply into themselves as anywhere I know.