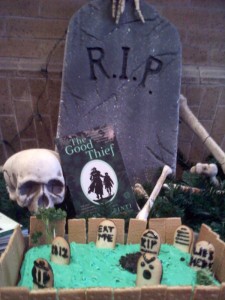 Some of you might remember
this graveyard cake
, put together by a mother/son bookclub reading
The Good Thief.
Now another group of readers in Rochester, NY has decided to create their own graveyard cake inspired by the book. Soon I may have to sponsor some kind of bake-off, but for now I will simply enjoy and post the pictures (special thanks to Chris Fanning for sending this one along). Later today I head to Rochester for their "All City Read" of
The Good Thief,
and hope to meet some of the chefs of this magnificent confection.
Go here for a Reader's Guide & list of events,
sponsored by Writers & Books (who also put together a
Good Thief scavenger hunt).
For the next four days I'll be upstate, reading and giving lectures, handing out wishing stones, presenting cartoon slideshows and playing the ukulele badly in public.