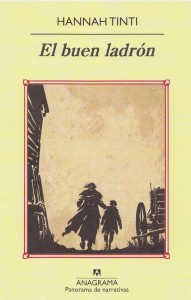 I've been in Barcelona the past few days to promote the Spanish & Catalan editions of
The Good Thief
with the good people of
Anagrama.
In a brief period of time I've learned quite a bit about this beautiful city, including their patron saint,
St. Eulalia
, who apparently had a dove fly from her neck as she was decapitated by the Romans, as well as the legend of the
Cristo de Lepanto
(a figure of Christ that came to life and dodged a cannonball during the
battle of Lepanto
in 1571). But perhaps my favorite discovery has been the
Castellers,
a Catalan tradition of building human towers. You can see a clip of them
here.
Yesterday was a flurry of interviews, and now they have started to appear, beginning with
this one I did with Público
before I left the states, and now more have followed:
La Razón
,
Europa Press
, and
ADN
. I'll add the rest as they come in. Anagrama, helmed by
Jorge Herralde,
is an amazing publishing house and the home of authors such as
Nabokov
and
Roberto Bolaño
. It's an honor to be included on their list.