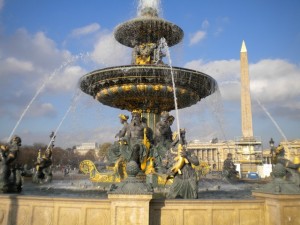 For the next 10 days I'll be taking part in
Les Belles Étrangères,
a festival hosted by the
Centre National du Livre in France.
This year they are hosting 12 American writers whose work has recently been translated into French and putting us on tour across the country:
Charles D'Ambrosio
,
Percival Everett
,
Forrest Gander,
Andrew Sean Greer
,
John Haskell
,
Matt Madden
,
Jack O'Connell
,
Eleni Sikelianos,
Yuri Slezkine
,
Richard White
,
Colson Whitehead
and me. Go
here
to see the list of events, and follow @
agreer/belles-etrangeres
 on twitter to hear what happens over the festival. I'll be posting daily, along with Colson Whitehead, Matt Madden, Andrew Sean Greer and John Haskell. In the meantime, I wanted to share this shot of the fountain at Place de la Concorde, which I walked past this morning, after landing in Paris around 6 am, the whole trip already seeming like some kind of dream. For you fellow musical-lovers, this is the spot where Gene Kelly and Leslie Caron dance in American in Paris. I was having flashbacks all day--quite a beautiful moment in Vincente Minnelli history. See below for the full effect.