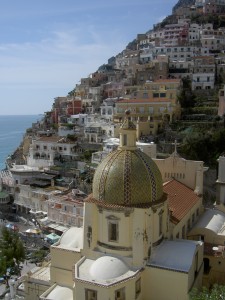 For the past three years, I've been taking part in the Sirenland Writers Conference. This extraordinary conference began about four years ago, when author Dani Shapiro and her husband the screenwriter Michael Maren met Antonio and Carla Sersale, owners of Le Sirenuse Hotel in Positano, Italy. Antonio wanted to host a writers' conference at his hotel, and Dani called me up to see if I'd be willing to help organize it with her and Michael. Italy? I said. Absolutely.
Our first year was very simple–a workshop that met every morning, with one-on-one talks and lectures in the evening in one of the most beautiful spots in the world. Now Sirenland is about to enter its fourth year, and will take place March 21-27, 2010. We're hosting three workshops with three extraordinary writers: Ron Carlson, Dani Shapiro, and Jim Shepard. I'll be there as well, talking about the business side of publishing, editorial work, and also my own writing.
Participation in this conference is limited to ensure individual attention and create a close, friendly community. Each day features an intensive, small group workshop, as well as private time for writing, and excursions to nearby Pompeii and the Isle of Capri. Evenings will include talks about publishing and living the writer's life, distinguished visiting authors, student and instructor readings, and fantastic meals overlooking the Islands of Li Galli, formerly called the "Island of the Sirens."
Here's what previous Sirenlanders had to say about their experience:
"Sirenland is unparalleled in its generosity to writers and its gracious commitment to helping participants to excavate their truest voice. By exploring structure, tone, intention and impulse, the conference makes room for both craft and art with the backdrop of a stunning setting."– Tessa Blake (Sirenland 2009)
"The conference exceeded my expectations in virtually every way and even fulfilled many I didn't know I had (or should have!). From the critiquing and teaching methods as a whole, to all the great friends and colleagues I made, to of course the amazing surroundings, both outside and in, the conference was a joy."
– Eric Grunwald (Sirenland 2009)
"I left Sirenland feeling it is less of a place than a concept, created by a small group of gifted artists who understand writing as a calling, and that those among us who must heed the song crave a safe and beautiful haven, enchantment, community and nurturance. Sirenland gives us this and so much more. It feeds the soul, and like a dream you want to return to, it lingers." – Adele Bertai (Sirenland 2009)
To apply writers must submit a brief statement of purpose (about 250 words) and a writing sample (no more than 7,000 words). All applications will be taken online at www.sirenland.net. Because this workshop will be limited, I encourage you to submit right away. The final deadline will be October 31st, 2009!