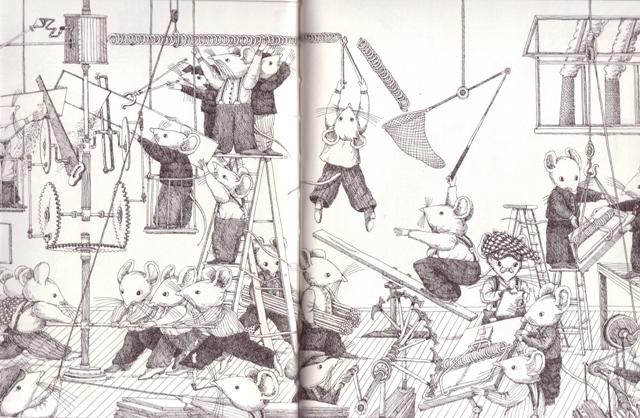 A few months ago, I spoke with the Osceola County Library Book Club from Florida. One of the questions they asked me was about the inspiration behind the mousetrap factory that appears in The Good Thief. This picture explains it all. It's from a children's book called Pinchpenny Mouse (now sadly out of print), written by Robert Kraus and illustrated by Robert Byrd. It's the story of a small town in Wales where the mice make mousetraps. My parents read me this book when I was a little girl, and I loved the story, especially the illustrations.
When I was trying to decide what the factory in North Umbrage should make, this picture from Pinchpenny Mouse came to mind. I hadn't read the book in twenty years, and yet I remembered nearly every detail.
The lovely ladies of the Osceola County Book Club tracked down a copy of Pinchpenny Mouse and sent it to me as a thank you for speaking to their group. When I opened the box, I was so surprised and touched. It's wonderful to read the book again, and to have a copy of my own. I believe the stories we are exposed to as children are incredibly important. If we are lucky they stay with us, and continue to give and inspire, for many, many years.